21 may. Opening Session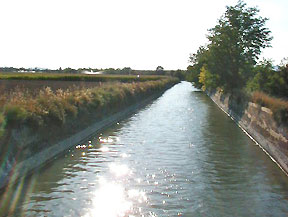 Place: Centro de Congresos "Ciutat de Elx"
9:15h. Eröffnung / Inauguración
9:30h. Prof. Dra. Cosima Möller (B-1-4): Elemente des römischen Wasserrechts – lex und natura, servitus und vetustas / Elementos del derecho de aguas romano – lex y natura, servitus y vetustas (FU Berlin), Romanistin.
10:00h. Prof. Dr. Francisco Beltran Lloriz: Bewässerung im römischen Hispanien (1. Jh. vor Chr.-2. Jh. nach Chr) / La irrigación en la Hispania romana (S.I a.C – S. II d.C) (Universität Zaragoza), Althistoriker.
10:30h. Dr. Manfred G. Schmidt (B-1-5): Der Baetis im Transportsystem der Provinz Baetica / El Bætis en el sistema de transporte de la Bética  (BBAW), Althistoriker
11:00h Diskussion / Debate
11:30h. Kaffee / Café
12:00h. Prof. Dr. Pepa Castillo Pascual: Ríos y calzadas en el valle del Ebro / Flüssen und Strassen an Ebro Tal  (Universität La Rioja), Althistoriker.
12:30h. Hans Kopp (B-1-1): Fluid boundaries? The Pillars of Hercules and Roman maritime orientation/ ¿Fronteras fluidas? Los pilares de Herkules y la orientacion maritima
romana  (FU Berlin), Doktorand Alte Geschichte.
Christoph Resch (A-3-4) Poster: Wassermanagement im römischen Privatrecht – Ein Datenbankprojekt  / La gestión de agua en derecho romano privado – un proyecto de base de datos (FU Berlín)
13:00h. Diskussion / Debate
13:30h. Mittagspause / Pausa para el almuerzo
16:00h. Drs. Jonas Berking (A-3) / Brian Beckers (A-3): Traditional water works in the Rio Guadalentin catchment. Cause and effect of persistent watermanagement structures in upper Andalucía / Abastecimiento de agua tradicional en la cuenca de Río Guadalentín. Causa y efecto de las estructuras de gestión del agua persistentes en la parte superior Andalucía (FU Berlin), Geographische Wissenschaften.
16:30h. Prof. Dr. Antonio Malpica Cuello: Wasser in der Landwirtschaft –  andalusische Landökonomie zur Zeit der muselmanischen Herrschaft / El agua en la agricultura: economía rural andalusí (Universität Granada), Mediävist.
17:00h.  Profs. Drs. Alberto García Porras / Esteban Fernández Navarro: Spanisch-muselmanische Keramik mit Bezug zu Wasser/ La cerámica del agua hispano-musulmana (Universität Granada), Kunsthistoriker. Modera: Prof. Dr. José Antonio Pérez Juan (Universidad Miguel Hernández de Elche)
17:30h. Prof. Dr. Enric Guinot I Rodríguez, Wassermanagement und bewässert Landschaften in der spätmittelalterlichen Valencia / La gestión del agua y los paisajes irrigados en la Valencia bajo medieval (Universität Valencia), Mediävist.
18:00h. Diskussion / Debate